For over 60 years, Landiscor has been producing professional quality, highly detailed Aerial Wall Murals of metropolitan statistical areas (MSA) throughout the United States. Our specialized mapping services have been utilized across multiple industries including: Commercial Real Estate Developers, Land Brokers, Home Builders, Real Estate Investment Firms, and Government Agencies in order to keep up-to-date with the changing landscape. The Aerial Wall Mural product, in particular, has been featured in thousands of offices / conference rooms in the over 30 markets we currently service. It serves not only as a beautiful piece of artwork, but offers an immediate full overview perspective to help our clients visually communicate the evolution of their market.
In addition to the popular off-the-shelf Aerial Wall Mural product, we also offer Custom Mapping services. This gives our customers a more hands-on approach to creating precisely the map they need. From defining their desired extent and choosing their preferred size to identifying the featured data overlays and optional add-ons, we can handcraft a unique map that tells the story our client(s) want to share.
Here are a few examples of industry-specific custom mapping projects we have completed:
This Aerial Wall Mural of the Greater Los Angeles area measures 265''W X 120''H and depicts over 6,000 square miles of area. It is a compelling visual of just how our clients like to showcase and communicate their market in their meetings and presentations.
Home Builders find tremendous value in smaller area maps for their sales centers that show prospective buyers the proximity of the community to schools, local shopping, parks, attractions, hospitals, highways/freeways, and other points of interest.
This aerial mural for Stonebridge Ranch in McKinney, TX is used by the client to show the area to someone who may not be familiar with it. Is perfect for meetings with clients to visually communicate the number of villages within the association and where specific amenities are located. It is also used to help develop a security plan to patrol the community's common areas.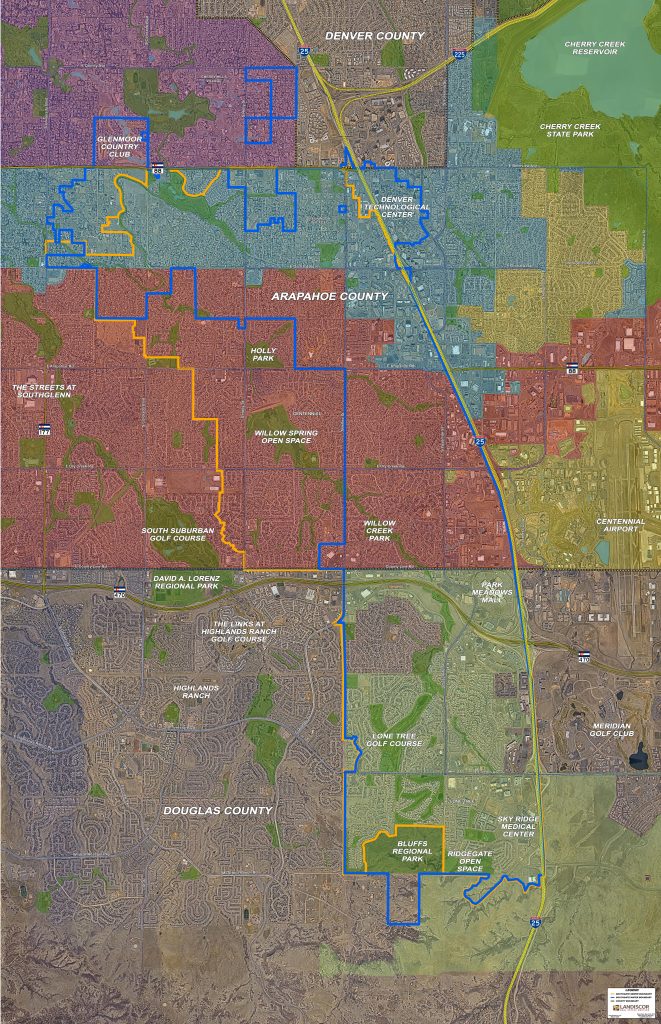 This map for the City of Centennial helps to identify city and county jurisdiction boundaries, road infrastructure and points of interest. These maps are popular with economic development offices and municipal government agencies. They are specifically used in management, planning, development, fire & safety, security and council meetings.
How can we possibly add more value to our Aerial Wall Mural product? Select one of our newest mounting options: acrylic or adhesive-vinyl or choose a custom metal frame now available in 5 colors. Also, the very popular dry erase lamination and magnetized surface options will create an interactive environment ensuring you get the best possible use from your new Aerial Wall Mural.
Looking to rebrand your firm or redesign your office? Our parent company, Image Craft, offers a full range of specialty printing services including: wall coverings, dimensional lettering, vehicle wraps, window graphics, banners, and much more to help you "stand-out" from the competition! Visit www.imcraft.com for more information.
Get started today! Simply visit Build Your Own Map and complete the form to let us know your requirements and a professional Landiscor Representative will contact you promptly to assist in creating your very own Custom Aerial Map! You can also contact us anytime at sales@landiscor.com.