Landiscor has a 60 year track record of providing high quality and extremely detailed professional maps. These are much more than just an enlarged aerial photograph. While many clients opt for our cost effective "off-the-shelf" products, it is possible to customize the maps by integrating graphics showing information pertinent to your company/project or adding custom finishes to the map to make it even more useful once it is hanging on your conference room wall.
Our standard production process starts with high resolution aerial or satellite imagery in a format that allows us to create huge wall maps without distorting the image quality. Then our mapping and graphics experts will color balance and enhance the image to ensure a visually appealing map. The full market wall maps typically include several standard graphics layers, such as: Freeways, US/State highways, major roads, points of interest, parks, major retail centers, airports, colleges/universities, and large planned communities. Some markets have additional information that has been added over the years based on feedback from our customers. Once the maps are created, they are mounted on ½" black gatorboard and include a black perimeter trim frame.
Click on the arrows and drag the bar left or right to view the before and after images.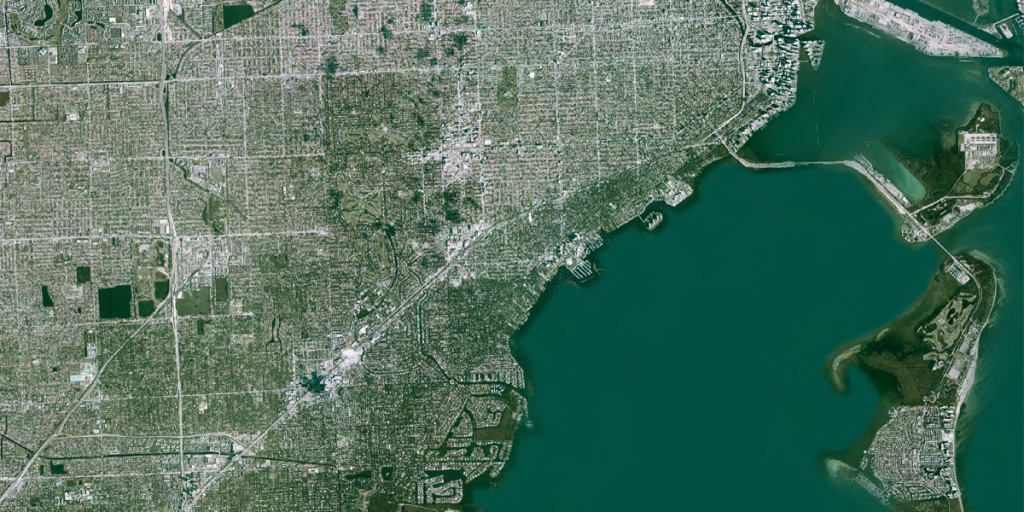 The options below are the most common types of customization. The Landiscor team will work with you to provide a map showing exactly what you need.

Custom Graphics
Although our murals contain a vast amount of data, we understand that clients sometime need a map that contains information pertinent to their company or industry. Therefore, we provide the option to add custom graphics. These have historically included future development sites, existing property locations, subterranean networks, adding/removing data layers or simply branding the map with your company logo. Custom graphics are billed based on the number of hours in production and agreed upon when the order is placed.
Custom Sizes
Choose any size of map to fit the space on your wall or to show a specific geographic extent. Although our off-the-shelf murals are provided at a predetermined size, we understand that these sizes do not always reflect the needs of every customer. Therefore, we offer clients the ability to request a custom sized Wall Mural to display in their office or conference room. Sizes can range anywhere from 24" x 36" poster sized prints to massive wall-sized displays that are 12+ feet tall and 25+ feet wide.
Dry Erase Laminate Finish
The popular dry erase finish is a perfect addition to any mural. By allowing you to write on the map with dry erase markers, this feature takes meetings and/or presentations to another level. Now when you are discussing a specific property or area, you can use the mural as a visual reference tool to communicate your message more effectively. When you are done, simply use a whiteboard eraser to clear the map. These maps have more of a glossy finish than our traditional matte finish and the laminate coating provides some additional protection to the map surface.
Magnetic Backing
The magnetic backing option is another convenient feature that enables clients to use the map in order to visually communicate their message to colleagues or clients. With the magnetized backing, magnets can be used to easily identify features or areas of interest throughout the map to clearly explain proximity, market trends, growth patterns and more. The magnetized effect is achieved by adding a thin sheet of metal between the printed image and the gatorboard backing of the mural.